SERVING CLARKSVILLE TN NEW HVAC, COOLING & AIR CONDITIONING SYSTEMS 
WHY PAY $7000 TO A FRANCHISE COMPANY?
CALL NOW AND SAVE THOUSANDS!!!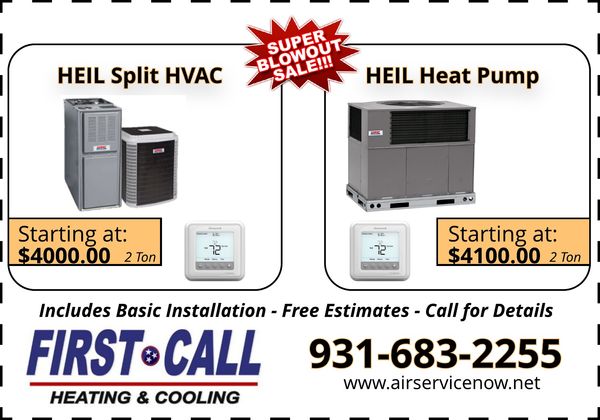 You should consider a new Heat Pump System or HVAC Unit if:
Your equipment frequently needs repairs
You have to put freon in every year
Your unit is more than 10 years old
Your energy bills are going up
Inconsistent temperatures throughout your home
Your system is excessively noisy
The repair is 1/3 cost of a new unit
Your old unit uses the obsolete R22 freon. Learn more about the R22 phase out HERE
If your looking for a Air Condtioning or HVAC replacement or installation in Clarksville TN give us a call today  for a free in-home estimate at 931-683-2255
Find the Right Heating & Air Unit with the Help of the Right Contractor!
Finding the right contractor to install your new or replacement heating and air conditioner is half the battle. Be aware of over priced franchised based companies who have to pay franchise fees to the parent company. These companies will generally be 20% to 60% over priced from a local company. Be sure to get plenty of free estimates and keep an eye out for the "fly by night" unlicensed guys trying to make a quick buck. See, Installing an air conditioner is more than a purchase; it's a commitment. Since an air conditioner can work for well over a decade with proper maintenance, choosing the right unit and contractor is important for ensuring that you won't need or want to replace yours in the future. If you are looking for complete air conditioner installation—from ductwork to unit replacement—give us a call. We hold all the required license and insurance to complete your new heating and air unit properly. Take a look at our work in the Photo Gallery
How Long of a New HVAC Labor Warranty Should I buy?
The correct answer to this question is.....it depends. Let me explain. When you start calling around town for free HVAC estimates you will learn every company may offer a different type of labor warranty. Some contractors may offer 1 year and some may offer 10 years but no matter what brand of unit you purchase it will only come with a 1 year labor warranty and up to 10 year parts warranty from the factory. So many contractors purchase extended labor warranties from 3rd party companies or carry the labor warranty in-house. The average 10 year labor warranty will cost between $600-$800 additional and can be purchased for 2 years after the date of installation. The other option is to carry the extended labor warranty in-house. This is a cheaper option but we dont recommend anything over 5 years due to liability. So no matter how many years you opt for be sure you purchase brand name equipment to ensure you are getting a quality product that wont break down. This is why we recommend tried and true TRANE, HEIL and CARRIER products. For more information give us a call to discuss your next Heating and Air Conditioner installation or replacement.
Commercial & Residential Install Services:
commercial air conditioning Installation
commercial replacement HVAC
rooftop HVAC
heat pump financing
central air installations
air conditioner replacement
heating and air conditioner install
heating and air conditioning install
central air conditioning replacements 
heating and air company
heating & ac installation
heating and cooling company
HVAC Installation
HVAC Replacement
heating and cooling systems
free estimates
mini-split installation
ductless mini split installation
gas heater installation
gas line installation
gas logs installation
The Most Trusted New Air
Conditioning Replacement Company 
Buy Local from a Qualified HVAC Installation Contractor
As the area's most trusted air conditioning service company, we have a lot to live up to. We know you expect expert AC repair, installations and replacements, and we believe you deserve nothing less. That why we send licensed, drug free, background checked, insured technicians to your home. When your air conditioning system needs attention, we'll be there promptly, and our local Air Conditioning Installation technicians will arrive fully uniformed, clean, and ready to handle your AC repairs to replace your old worn out unit. For the best HVAC services around, trust us with your air conditioning installations and repairs.
 Keep Comfortable Year Around with a New Air Conditioner Installation
Our Air Conditioning Installation contractors knows that often we have to switch our heating and air system back and forth during several months out of the year. It's that time of year currently where you're having to use the air conditioner after it's sat for several months unused. With all the switching on and off and waiting in between, the air conditioner can be under a heavy load. You'll want to ensure your new air conditioner runs well all summer so take a look at our tune-up services so you can trust yours to work right. Trust is an important thing when it comes to service oriented business. You need to know that you can trust us to make your repairs right and be treated fairly and with respect. These are the very values we try to uphold every day during every service we provide.Whether you need air conditioning repairs, installations, or replacement, we're ready and able to assist you with expert, quality services you can rely on.
Call or Text for a Free Estimate: 931-683-2255
Why Choose First Call HVAC For Heating and Air Conditioner Replacement?
Simple! We are the best in Clarksville TN. Unlike our competition we offer affordable and quality heating and air conditioner replacement and installations. We are not a "Big Box" franchise company that charges an astronomical amount for a simple installation in the name of reputation.  We offer and explain all of your options before starting any replacement so you can decide what's best for your budget. Our air conditioner installation technicians are licensed and insured, and we guarantee our work in writing. Since we sell, service and repair all equipment brands and types, you can put your full trust in us to complete your AC or heating installation or replacement.